This beautiful, modern 3 bedroom penthouse is situated in ones of the coasts best locations and resorts of the Golden Mile, Esmeralda Playa, overlooking the beach just to the east of the famous Puerto Banus yachting marina.
This stylish apartment has all modern appliances, Fiber Optic wifi internet (80mbs)...and IPTV system with many TV and movie channels in English, German, French, Italian, Russian and Arabic.
Comfortably and stylishly everything needed for your beach towels to champagne bucket.
The most impressive part of this location is undoubtedly the views, looking right over the Mediterranean, toward left you can see the Marbella Bay and Puerto Banus to the right, just 5 mins walk along the promenade to the Marina.
The huge rooftop terrace had a shaded dining table, BBQ, sofas for well as a large leather 6 seats jacuzzi looking directly over the water.
There is 24 hour security and underground secure parking in the resort Esmeralda Playa on the Golden Mile, Marbella.
Local restaurants, supermarkets, beaches and bars are only a few steps away.
You will love your stay here.
The location is great just a short walk to the marina and the beach is on the doorstep. The communal and pool areas are clean and well maintained. The apartment itself is beautiful very clean spacious and modern. The apartment has everything you could ask for with the bonus of a lovely balcony.
And a very spacious terrace that has an amazing sea view to one side and mountain view to the other side. The terrace has plenty of outdoor furniture for dining or just lounging.



Basicdata:
Type:
Apartment
Bedroom:
3
Sleep:
6
Bathrooms:
2
m² living:
120
m² plot:
Near the coast:
ja
Distance:
Airport:
55 km
Beach:
50 m
Golf:
1 km
Shop:
500 m
Contact details:
HLL Holiday Locations LTD
61-63 Lord Byron Street, 5th floor, App. 502 - ; CY - 6023 Larnaca - Cyprus
Tel.: +357 240 204 78 Office Cyprus 9h30 - 16h (MEZ + 1 h)
Tel: +34 664 447 173 Office Spain 11h - 21h on 7 days a week
Mob.: +34.600.071.609
E-M@il:
mail@holiday-locations.com
use our Live Chat if we are online
or otherwise
Please take contact:




Requested property: A stunning beachfront penthouse- Puerto Banus Marbella Esmeralda Playa

Holiday penthouse for rent in Puerto Banús - Puerto Banús vacation penthouse A beautiful, modern, beachfront penthouse with rooftop terrace and jacuzzi...overlooking the sea and just a short walk from Puerto Banus Marina in the beach resort Esmeralda Playa.
---
similar properties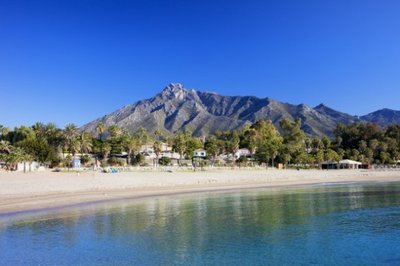 (Apartment with 3 bedrooms in Golden Mile)